Quikscribe Recorder Profile Editor
The QSR Profile Editor is a tool to provide centralized management of the organization's QSR user profiles (instead of having each profile residing on individual user PCs).
Click here to download the QSR Profile Editor program, and save it to your Desktop or to a folder of your choosing, and then execute the program:
<![if !vml]>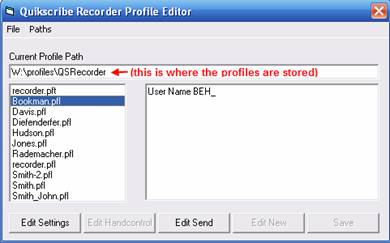 <![endif]>
The above interface shows the Current Profile Path – if you need to change the path to select the desired location of your user profiles, select File -> Select Profile, and browse to the path you want.
The Global Template is named recorder.pft  (has a .pft extension instead of .pfl), and is used to define global parameters to override individual user settings.  The advantage of this function is that if a user happens to change a particular setting that is defined in the Global Template, the Global Template will override the user's choice and reset the setting in the user profile file.  You must use a text editor to modify the entries in the Global Template file.  The field names in the global template are the same entries found in each user profile.  Field entries in the Global Template file recorder.pft will override individual entries in the user profile.
<![if !vml]>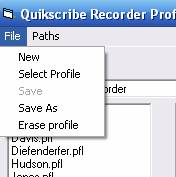 <![endif]>
The function 'Save As' provides an easy way to set up user profiles.  Once you have a user profile set up, you may use that one to create a new profile with a new name, and retain the same settings.  Then you can just modify the settings specific to that user (name, email address, etc.)
The 'Paths' option provides direct access to define the send locations for the highlighted user profile.  The send destinations may also be defined using the 'Edit Send' button (see below).
<![if !vml]>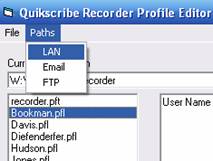 <![endif]>
If you select the 'Edit Settings' button, the QSR Settings panel will appear for that user profile.  You may modify the selections as desired.  Settings that are specific to the PC hardware (such as the Record Device and Playback Device) are not available to edit with the Profile Editor, as that requires direct contact with the user's PC.
<![if !vml]>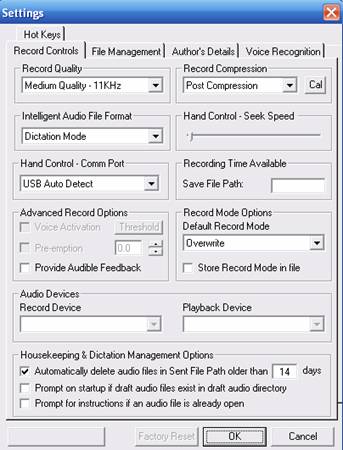 <![endif]>
If you select the 'Edit Send' button, then the 'Send to' panel appears for the user.  You may click the disk icon to save the new settings, or a prompt will appear asking if you want to save the settings.
<![if !vml]>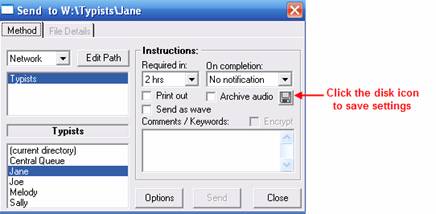 <![endif]>
The 'Edit New' button provides an entry panel to define table entries for the Matter No and Doc Type fields.
<![if !vml]>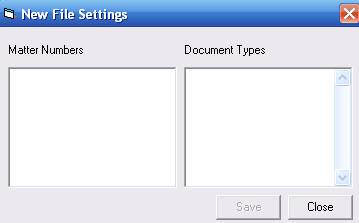 <![endif]>
These fields will provide drop-down lists to select the desired entry when a new file is created in QSR.  Double-click in the entry box to edit entries, and select Save to save the entries.